Services are available for Caregivers who are:
Family members caring for someone 60 years of age or older.
Caregivers who are 60 years of age or older and care for a disabled adult over 18 or for another older adult, age 60 or older.
Caring for a loved one who needs assistance with 2 or more Activities of Daily Living (ADL's).
Residents of Calhoun County.
Services Include:
Information and referrals
Support groups
Caregiver training
Counseling
Caregiver Resource Library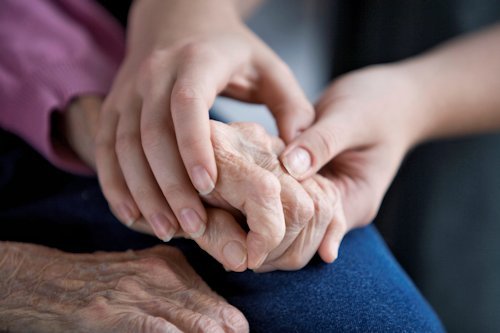 Family caregivers are taking over many functions and responsibilities previously provided by hospitals and nurses. Unprepared family members often find themselves anxious and frustrated because they do not have the knowledge or skills needed to provide this care. So, here are some helpful tips for all of you who care for loved ones.
Take Care of Yourself First
     Taking care of yourself means that you can provide better care for your loved one. You have to be your first priority. No matter how hard it is you have to have a life outside of caregiving.
Set Priorities
     Make a list of your personal, caregiving, family and work obligations. Let go of less important commitments wherever you can. Remember to always put time aside for yourself, whether it is to work out or to relax in the bathtub.
Establish Open Communications with The Doctor
     Make sure you are aware of all your loved one's medical conditions. If you do not understand something ask their doctor for clarification. Don't settle with just any physician. It is your right to have a physician who is sensitive to your needs and takes the time to answer all your questions.
Identifying Your Options for Assistance
Whether you are on your own or have help from family, sooner or later you will be looking for outside help. If you or your loved one are 60 years of age or older you may qualify for programs that offer occasional in-home or overnight respite services for the care recipient so the caregiver can take a break. If you are interested or would like more information please call 269.986.3135.
Find a Local Support Group
There is nothing better than talking with other people who are going through the same things you are. Find a local support group that can help you cope with your stress on a day to day basis. Anne Clark of Senior Health Partners facilitates a Caregiver Support Group on the 2nd Tuesday of every month at 10 a.m. at the Battle Creek Family YMCA. For more information call 269.986.3135.
Plan Ahead
Advance planning can focus on issues such as declining health and long-term care, living arrangements, financial and legal issues, end-of-life decisions, and death and funeral arrangements. Planning for the future helps reduce heartache, increases your understanding about your loved one's wishes, makes decisions easier in difficult times, and will help with any disagreements with other family members.
There are no perfect or easy answers. There are no ready-made solutions. Every caregiving situation is unique. Although it may seem like you are alone, you are not, and there are always options out there for you.