Please call your support group contact person to check the availability of the group's location.
What is a Support Group?
A support group is a group of individuals coming together who give and receive help, advice, friendship and emotional support while learning about problems that they encounter in their life. A support group includes education and methods for coping, and may be led by a therapist or a person of experience.
Why should I attend a Support Group?
A support group gives you the opportunity to learn, give and receive encouragement from others who are going through the same experience
A support group can help you learn about community resources and how to connect to those resources
A support group can provide education and methods of coping
For a complete list of support groups and times, see our support group schedule below. For general information, call 269.441.0948. For more information about a specific support group, facilitator phone numbers are also provided below.
All support groups are FREE and open to anyone.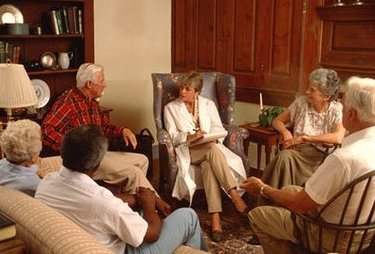 Support Group Schedule
| | | | | | |
| --- | --- | --- | --- | --- | --- |
| Group | Day | Time | Location | Contact | Phone |
| Cancer – Breast | Varies | Varies | Bronson Battle Creek Cancer Center | Diane Olian | 269.274.5084 |
| One Day at a time | Email (survivors@comcast.net) |   |   | Diane Olian | 269.274.5084 |
| Caregivers | 1st Wednesday | 3:00 – 4:00pm |        Heritage Commons Sr. Center         15885 W. Michigan, Marshall |     Sherri Seifert, LMSW       Erin Wilson, LMSW      Lynn Moss, LMSW | 269.789.7637  269.789.3939 269.789.3939 |
| Caregiver Circle | 2nd & 4th Thursdays | 3:00 – 4:30pm |           CareWell Services – 2nd Floor      200 W Michigan Ave. Battle Creek | Linda Frost |  269.245.6507   269.317.3651 |
|           Finding Support &           Healing After Loss | Wednesday | 4:00 – 5:30pm |           CareWell Services – 2nd Floor       200 W Michigan Ave. Battle Creek | Linda Frost | 269.245.6507  269.317.3651 |
| Grief | 1st Thursday | 6:30pm |   Love In Action Community Ministry    203 Bowers Ave; Battle Creek | Pastor John Boyd | 269.224.1560 |
| Journeys Program (Grief for families and children) | 2nd & 4th Tuesday (Virtual) | Varies | Virtual | Rita Mitchell | 269.345.0273 |
| Grief Connection Hospice Care of Southwest MI | 1st & 3rd Wednesday (Virtual) | 9:30-11:00am 6:30-8:00pm | Virtual | Cate Jarvis | 269.345.0273 |
| Kinship Care | 1st Tuesday | 12:30-2:30pm | Location Varies – Contact Facilitator | Sharon | 269.274.4077 |
| Kinship Care | 3rd Wednesday | 6:00pm |   Westlake Presbyterian Church               415 S 28th St Battle Creek – Child Care available with 24 hour notice | Sharon | 269.274.4077 |
| Parkinson's | 2nd Thursday | 4:30-6:00pm |     North Avenue Church of God        1079 N. Ave, Battle Creek | Anne Clark | 269.986.3135 |